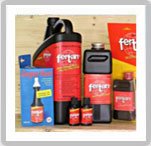 CALL 01202 295570 to ORDER. Fertan Rust Converter. We are Fertan stockists. Designed to be the best converter and remover of rust to provide a surface suitable for overcoating, Fertan provides you with all the benefits of shot blasting with no surface damage and no material loss. Depending on the environment Fertan will provide resistance to further rust for up to 6 months without painting (environment dependent). 1.0 Litre & 5.0 Litre containers. Strictly Net Price.
Fertan Rust Converter provides you with the simple and safe way to treat and remove rust and corrosion from steel and iron. Fertan is suitable for treating steel and iron surfaces, even if they will be left for weeks or even months prior to final painting. Rust is removed and prevented from re-forming for up to six months so delays in your painting schedule will not be a disaster. Fertan can be overcoated with a range of primers, undercoats and oil or water based paints, epoxy, wax, chlorinated rubber and lacquer; see "Related Products" below. Fertan products for Derusting, Sealing and Finishing.
Made from the highest quality ingredients Fertan Rust Converter provides a tremendously effective way to treat rust in any situation. Safe and easy to use, it totally destroys rust and nothing but the rust. Fertan is suitable for almost every situation where steel or iron is used, producing the right results, every time.
Application is Simple and Safe. Just brush off loose rust and remove dirt, oil, or silicone products that will prevent Fertan reaching the metal surface. Apply Fertan by brush, roller or spray and leave for 24 hours, extending this to 48 hours in low temperatures. The surface can now be rinsed off and overpainted as required. The overpainting can be left for weeks, months or years depending on the environmental conditions.
Benefits of using Fertan. The purpose of Fertan is to provide you with all the benefits of shot blasting with no surface damage and no material loss. The advantage is that a "shot-blasting" result can be achieved by simply unscrewing the top of the container and working a brush or spray on to the rusted surface.
Typical Applications. Rust treatment for all steel and iron including: boat maintenance, cranes, fencing, railing, gratings, lorries, trucks, trailers, cars. Storage tanks, pipe-work, bridges, structural steel, agricultural equipment, inter-machining coat. You can buy Fertan Rust Converter in 1.0 Litre and 5.0 Litre containers. CALL 01202 295570 to ORDER.
Coverage: 1.0 Litre will cover 12 sqm approximately.
Our Price: £97.65 (Exc VAT) per 5.0 Litres, £22.51 (Exc VAT) per 1.0 Litre.
Download MSDS