Fertan Rust Converter Rust Treatment

[See more]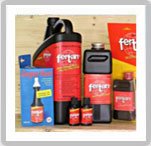 Fertan Rust Converter. Designed to be the best converter and remover of rust to provide a surface suitable for overcoating. Use Fertan in place of shot-blasting and achieve the same finish "out of the can"! Depending on the environment Fertan will provide resistance to further rust for up to 6 months without painting (environment dependent). Fertan provides you with all the benefits of shot blasting with no surface damage and no material loss. We are Fertan stockists. You can buy Fertan Rust Converter in 1.0 Litre & 5.0 Litre containers. Strictly Net Price.
High Build Multi-Surface, Multi Purpose Paint in Black, White & Pastel Shades A1040

[See more]
NEW! A high build, multi-surface, multi-purpose, mid-sheen finish paint. This coating is a unique blend of special resins, being soft-solvented and VOC compliant, giving good durability, moderate chemical resistance and very good weather resistance. It can be shower proof in two hours or less and is ideal for application when the weather is likely to be either inclement or at a low temperature. Minimum 10.0 Litres.
Coverage: Up to 30 - 40 sq. metres per 5.0 Litres for Smooth Finish; 20 - 25 sq. meters per 5.0 Litres for Textured Finish.
*UK Mainland only, while stock last.
Synthamel Finish Paint, Gloss BS4800 Colours A109

[See more]
Synthamel (synthetic enamel) Finish Paint. A high quality, lead free synthetic enamel paint conforming to BS4310. BS4800 colours plus Black and White. An excellent alternative to lead-based paints.
Coverage: 40 sq metres per 5.0 Litres per coat @ 25 microns dry film thickness.