Latest


We recommend payment by BACS.
---
INDIAN SUMMER? There is the prospect of an "Indian Summer" which should provide an extended period for external projects. Get ahead and order your paint now; early preparation to take advantage of cooler days which give ideal painting conditions should not be overlooked! Call us now on 01202 295570.
If using paints in communal situations or areas of high use, remember water-based coatings don't smell as much as solvent types. We do however have a comprehensive range of both.
If you are suffering with "Solar Gain" (greenhouse effect) from a glass, asphalt or metal roof, see our Solar Reflective and Anti-glare products which are currently on OFFER…
---
PHEW, WHAT A SCORCHER...This has been a stunning summer both for lucky pool users and for our pool paint sales…our highest to date for all types of pool products.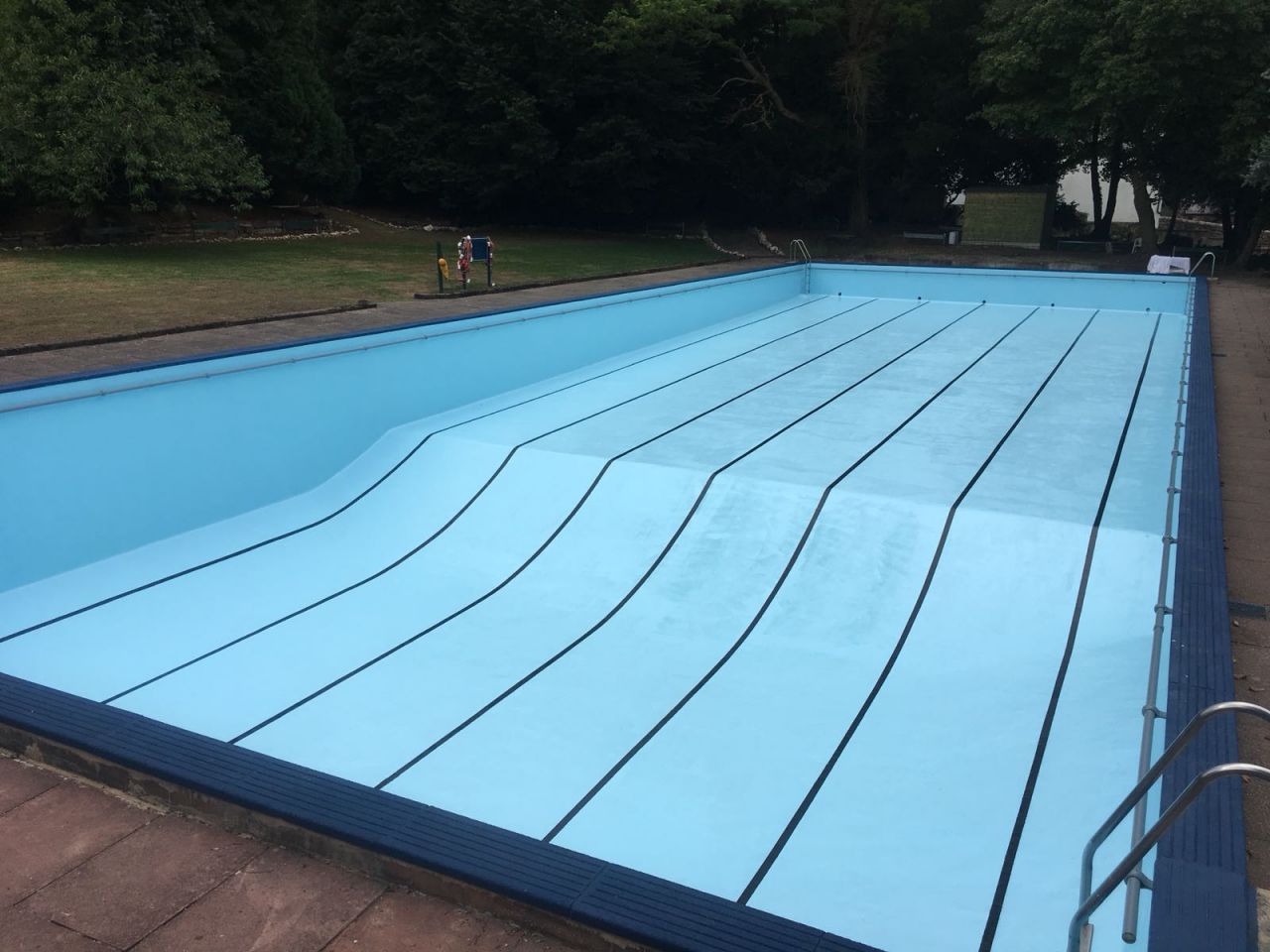 This period included the supply of paints for an unusual spring-fed pool at the New Bath Hotel & Spa in Matlock Bath, pictured. They used our A148 Chlorinated Rubber in the pool "tank" in BS18E51 along with black lane lines. The outer concrete edge was painted with A148 Fine Anti-slip in a bespoke dark blue. Click Here to see Tony Robinson introduce this fun renovation on video.
With the good weather forecast to continue in to the Indian Summer, why not take advantage of our WB148 POOL PAINT END OF SEASON SALE. BUY a minimum of 2 x 5 Litres and get 10% OFF & FREE delivery*. Offer ends 30th SEPTEMBER.
---
Technical Paints offer a full free advisory service to help you before you paint. Just email us with a broad outline of your project, ideally with photos to show the condition of the substrate. We will assess your situation and give you our recommendations along with a painting specification and timings to help achieve your end result. If the condition of the substrate is too damaged or outside of our product range, then we will advise you accordingly.
We offer a comprehensive range of paints and performance coatings for most situations and surfaces. Many are in stock and others, plus Special Mixes, are made to order within a few working days. With new resources, new raw material suppliers and increased sales, we are now able to offer a faster turnaround on our most popular products.
We are pleased to receive enquiries of a technical nature. Call us on 01202 295 570 or email us with your enquiry.
Once you have established the ideal end-result for your project, refer to our Substrate Index for product options and take a few invaluable moments to read our Painting Guides - see below.
SUBSTRATE INDEX
PAINT PREPARATION GUIDE
PAINTING IN COOLER WEATHER - (you never know!)
PAINT SYSTEMS FOR STEEL SURFACES/SUBSTRATES
COLOUR CHARTS RAL, BS4800, BS381C
We have a vast range of mainstream and specialist products suitable for industrial, commercial, coastal, rural or city environments. We also have over 70 years of expertise to call upon so we rarely come across a requirement we haven't seen before and we can supply both water based and solvent based systems for professional and trade use. We are stockists of Fertan Rust Converter - Buy Fertan here!
If in doubt or you need guidance, just pop us an email or give our Team a call on 01202 295 570.
---
"We would just like to say how delighted we are with your pool paint and your service.
Our order was shipped to Cyprus - by us - and one tin had spilt in transit.
All our responsibility, of course, but you replaced it free of charge, and immediately. Unasked!
My husband says it's the best paint he's ever used and we have a very large pool, so it's a big job.
Good stuff everyone, and many, many thanks."
Jeannette Freeman