Paint for Swimming Pools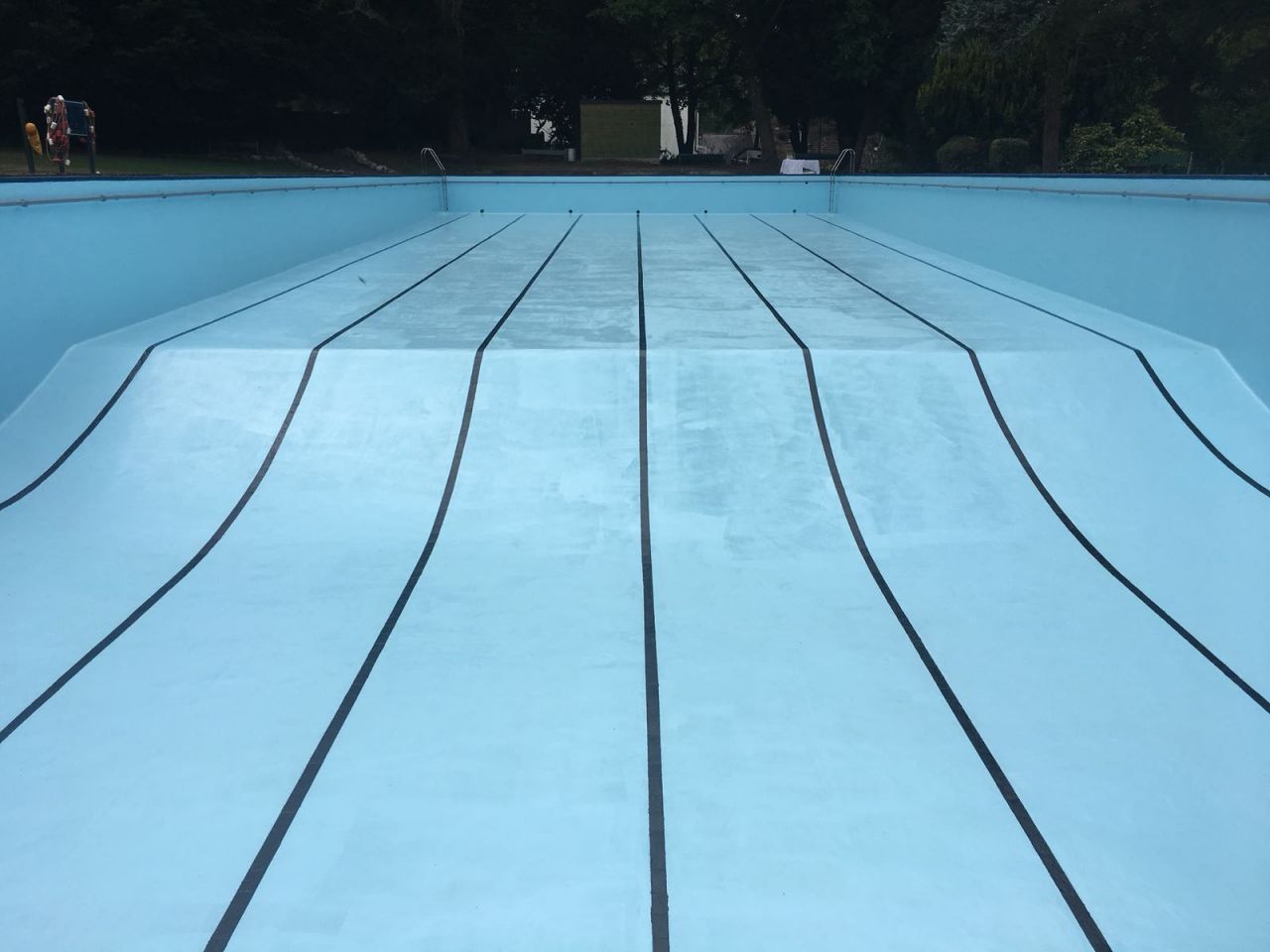 CALL 01202 295570 to ORDER. A variety of paints and coatings to be used in pools and on pool surrounds, in pool enclosures and on pool ceilings. Smooth, gloss and non-slip paints to treat concrete and metal surfaces along with pools, changing and shower areas.
How to choose a colour for your swimming pool paint?
With so many pool colours to choose from, selecting the perfect pool colour for your outdoor pool and surround can be daunting. Many clients often sensibly begin by asking to see the most popular pool colours available. However, like most trends, what is popular today may not be popular tomorrow and you should therefore be prepared to live with your choice of colour for the next few years! With this in mind we encourage our customers and their clients to consider a number of important factors when choosing a pool colour.
Look and Feel.
Before you begin to think about pool colour, first consider the look and feel you would like to create in the area in which your pool is, or will be situated. The theme of your pool area will begin to draw you towards a colour palette to work with. The tone of your pool surrounds should be in contrast to your pool colour. If you choose a light pool colour, consider darker pool surrounds. Similarly, if you prefer a dark pool colour, consider lighter pool surrounds.
The Pool Colour.
Depending on the size of your swimming pool, your design may feature your swimming pool as its centre-piece. Like any "show stopper", this should complement the desired end result whilst adding the 'wow' factor to the overall design. Factors to be considered when choosing a pool colour include your general theme, pool surrounds, water reflection and water temperature, to name but a few.
Please note we do not offer a colour consultancy service. If this is something you feel you would benefit from, we recommend talking to a local swimming pool designer or architect.
Please note we are not painting contractors and do not provide a painting service.
---
"We would just like to say how delighted we are with your pool paint and your service."
My husband says it's the best paint he's ever used and we have a very large pool, so it's a big job.
Good stuff everyone, and many, many thanks."
Jeannette Freeman
---
Acrylic Water Based Swimming Pool Paint, WB148. Water based 100% pure Acrylic Swimming Pool Paint, suitable for application to all types of porous substrates and other pool coatings, but not suitable for application over two pack epoxies.
---
Chlorinated Rubber Solvent Based Swimming Pool Paint, A148. A fast drying, Chlorinated Rubber Solvent Based paint, suitable for swimming pools and concrete ponds. Ideal for swimming pool maintenance projects.
---
Anti-slip Chlorinated Rubber Solvent Based Swimming Pool Paint, A148NS. A fast drying, Chlorinated Rubber Solvent-Based anti-slip finish, ideally suited for steps and walkways in and around swimming pools.
---
Muriatic Acid Wash Hard Surface Swimming Pool Cleaner AWC1035. Acid Wash Cleaner (Hydrochloric or Muriatic Acid). Recommended for use before re-painting your pool.
---
CLICK HERE FOR FULL SWIMMING POOL PRODUCT RANGE