RAL Colour Chart for RAL paint colours.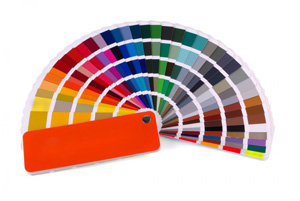 Please note that the RAL range is a range of colours and not a range of paint finishes. It is important to establish the correct paint for your intended use and then ascertain its colour availability. Minimum 5.0 Litres per colour.
Our site displays the standard colours according to the Classic RAL System. RAL is used for information defining standard colours for paint and coatings and is the most popular Central European Colour Standard used today. RAL colours are used in architecture, construction, industry and road safety.
The RAL paint colour range is offered in a limited number of products and a minimum of 5.0 Litres per colour. BS4800 & BS381C colours also available.
We also have metallic colours in RAL 9006 & 9007 and Silvers and Golds ideally suited to wrought iron applications, colour swatches available. These are excellent options in instances where budget limitations preclude the use of Gold Leaf. Suitable for both internal and external decorative and architectural effects. Please contact us for details. We are currently seeing increased demand for Black paint for infinity pools.
DISCLAIMER: Due to differences in screen displays that are beyond our control, the colours on these pages cannot be guaranteed to match the actual colour of the manufactured product. All colours are shown for guidance only.

PLEASE NOTE: Prices for RAL coloured paints are based on the "strength" of the selected colour, Pastel (P) or Strong (S).