NEWS
16th February 2016
Colour Match made in Heaven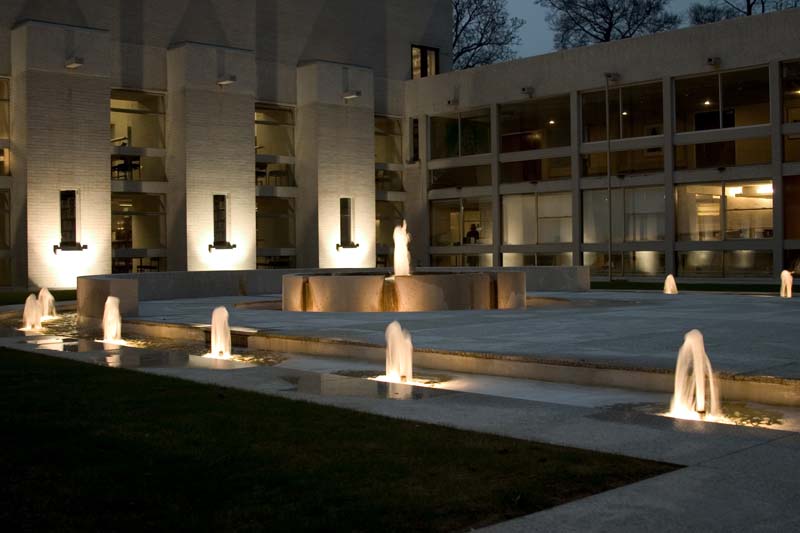 Murray Edwards College (New Hall, University of Cambridge)
We were contacted by Murray Edwards College asking us to contact their Estates Department regarding the refurbishment of a significant water feature in the grounds of the College.
Upon contact, it was established that the surface(s) to be painted were of a waterproof cementacious coating applied several years earlier and which we had not previously experienced in this type of environment. Further, the coating had in places started to break down. Upon sight of photographic evidence and following further investigation by our Technical Team, we established that the surfaces had become contaminated with algae and would require cleaning and repair prior to application of any further coating.
We recommended that we would supply a sample of our A148 Pool Paint to be tested for compatibility on a prepared area in late January the following year. The test was successfully performed with no compatibility issue to the surfaces and with our A148 paint holding firm to the surface.
As with many larger organisations, there had been many meetings between different departments of the College with regards to the colour; finally the unusual colour choice was confirmed and submitted to us to establish that we could recreate it in the A148 Pearl as supplied for testing. The Estates Department issued an order for a 5.0 Litre sample to be made and the central water bowl feature was coated with the A148 as directed by Technical Paint Services. Following application and curing, the water bowl was filled and the Pearl colour approved.
Estate Manager Andrew Bainbridge and his team subsequently started preparation and painting of the remainder of the water feature, which was completed some weeks later.
A148 applied and pool areas filled. A Happy match. Pool area prior to treatment.