NEWS
22nd July 2021
Celebrating 75 Years of Paint Manufacturing at Technical Paint Services.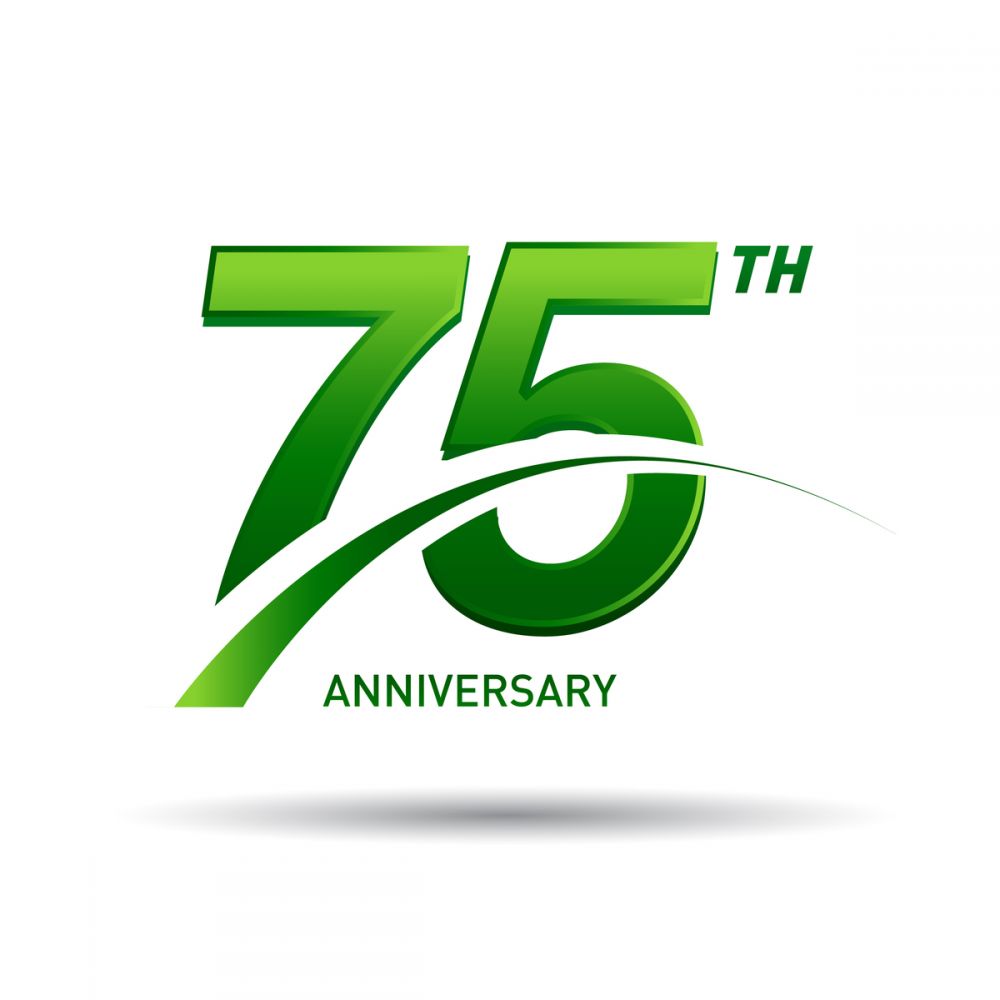 Technical Paint Services - a brief account of our history.
Introduction. Technical Paint Services was founded on the principle of a sound technical knowledge of the paints and coatings that were, and are, relevant to the marketplace, together with a speedy turnaround of supply. In that respect, technical know-how, speed of development and supply, have been the backbone of the business for 75 years. This pragmatic approach combined with old fashioned personal service and attention to the customer needs, both with knowledgeable people to talk or correspond with, really matters. We have never pushed our own products on the customer 'to sell', but rather aim that the end-user is offered the correct product, even to the extent that If we don't make a suitable paint or coating, then we will always endeavour to point them to an alternative source of supply.

Paint is one of the oldest 'products' used by mankind, albeit that things have moved on from cave paintings, but the principles of use remain the same: decoration, colour and identification of the correct product for the environment in which it will be used. Tastes change, many new materials have been developed that require coating and there remains the constant quest to improve the paints' technical performance and 'green credentials'. Effectively these remain the core values of the business which have endured for so long.
---
1946 - Technical Paint Services is founded by James T Peacop AMCT FRIC, following a career as a paint chemist and then Head Chemist for a leading paint maker. He was a senior MOD Test Chemist, who during his MOD employment, formulated many specialist camouflage and aircraft paints. He gained his Fellowship to The Royal Institute of Chemistry for inventing modern paint strippers. He began his independent business as a sole trader manufacturing products in his garden shed, developing, and testing his paint ideas, making, packing, and selling direct. The 'firm' was subsequently relocated to a small industrial unit nearby.
By 1949 Technical Paint Services had grown in size and reputation. Following the post war boom in construction and road building, including the new UK 'Motorways' network, a large ex-farm complex and dairy was purchased on the Uxbridge Trading Estate to facilitate the expanding operation. Technical Paint Services was the first to design and manufacture a protective paint system for wooden shuttering moulds, transforming the casting of concrete structures due to the multiple-use properties. Previously, the moulds were discarded after a single concrete casting. For ten years this system was the firm's best seller, alongside a whole range of decorative, industrial and vehicle paints, including lead-based products and a range of varnishes. In 1968, James's son Robert Peacop joined the business, working alongside his three sisters who were already part of the family workforce.
Tragically, in 1973 James Peacop died suddenly whilst on holiday in America. The firm was taken over by his wife Edith who was supported by her immediate family and Bruce Allen, a chemist, who had married Diana, the eldest daughter of James and Edith.
In 1975 Technical Paint Services was formed into a Limited Company with Robert Peacop as Managing Director, with Diana and Edith as Co-Directors. At this time, an expansion of Trade Counter facilities and fast production and order fulfilment processes are established.

1981 sees Technical Paint Services move again, this time to a modern, compact industrial unit in Horton Bridge Road, West Drayton. This follows Edith's retirement from the business and the sisters leaving the firm for family commitments. The company develop and introduce some of the first reliable, water-based (solvent free) coatings, and with demand for products across the range still increasing, staffing is expanded to about 30 employees.
We jump to 1994 when Robert Peacop is very seriously injured in a near fatal car crash and is left absent from the business for six months. This temporarily stalls the development of the business until he returns with new ambition and ideas. A change of direction and product ranges is instigated, with the emphasis on high performance, niche market, high-end products. This repositioning comes in the face of fierce competition from the 'Sheds', who are offering bulk products, using cheap materials, allied to 7 day a week trading. Strategically, the core business has transitioned to offering bespoke, special mixing and manufacturing with fast turnaround and 'next day' despatch.
2001 sees another move, this time away from West London to Bournemouth, Dorset, where larger, more affordable premises are acquired, with a large, accessible, and skilled labour force which had been proving difficult to find in West London. The current heart of the business is now specification based, performance-related products with over 80% of sales being virtually VOC free, water-based finishes.

In 2013, we develop and launch a new, specialised website focussing primarily on paints and coatings for swimming pools, www.swimming-pool-paint.co.uk. Our experience over many years had seen us developing both solvent and water based paints to supply commercial sports and health clubs, the education sector and the residential homes markets. Our products have been used extensively in Local Authority-run childrens paddling pools, health spas, olympic stadia, lidos, hydrotherapy pools and even aquaria in zoos and wildlife parks!
2020 - Covid-19 hits. Technical Paint Services continues to trade and manages to manufacture and market its products during a period of very testing trading conditions.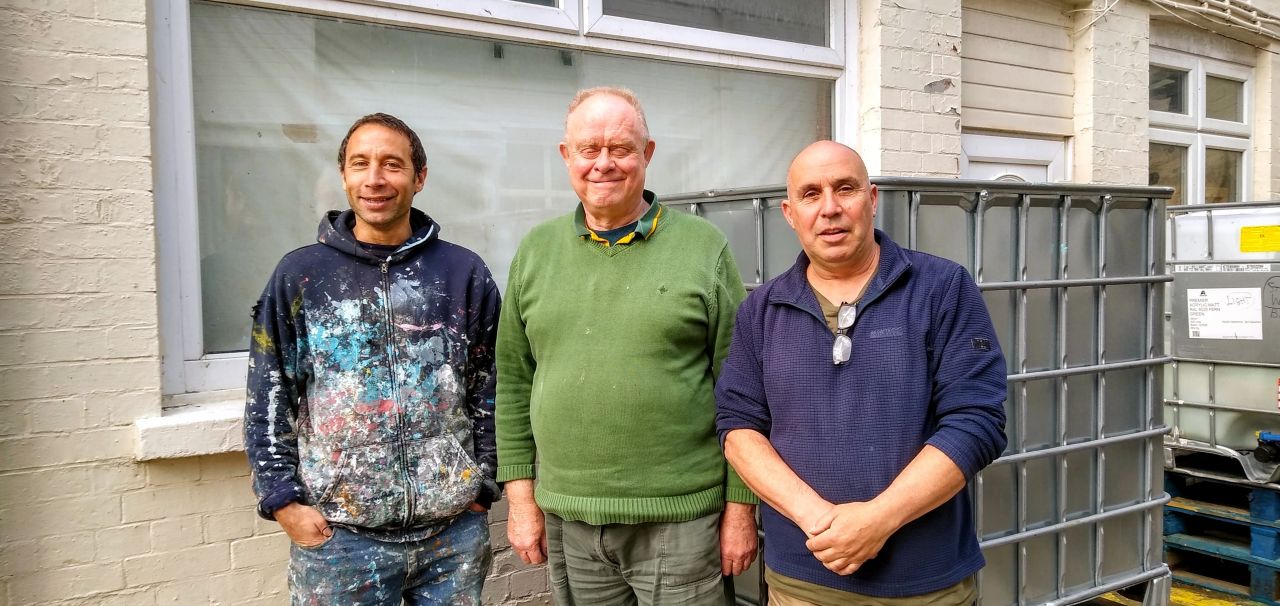 2021 - We are 75 Years Old! Thank you to all our specifiers, customers, staff, and suppliers for supporting us.
L to R, Alex Rossi - Production & Colour Matching, Robert Peacop - Technical & Managing Director, Chris Broomfield - Sales & Technical Manager.