Water based 100% Acrylic Single-Pack Anti-Slip Swimming Pool Paint, suitable for application to all types of porous substrates and other pool coatings, but not suitable for application over two pack epoxy. Exhibiting excellent water resistance and also suitable as a coating for inside concrete ponds. Ideal for swimming pool maintenance. If you wish to paint a newly rendered or concreted surface that is less than 8 - 10 weeks old, it is recommended that you use our Chlorinated Rubber Swimming Pool Paint A148, which can be applied after just 4 weeks. Strictly Net Price. Availability: In the BS4800 colour range, including White. Limited RAL colours to order, minimum 10.0 Litres. Call 01202 295570.
THIS IS THE SINGLE-PACK, ENVIRONMENTALLY FRIENDLY, WATER-BASED, EASY TO USE OPTION.
Availability: WB148NS Anti-Slip Single-Pack Acrylic Swimming Pool Paint, in a choice of colours.
Single-Pack Water Based or Solvent Based Swimming Pool Paint? Which is right for you? Consider the Advantages and Disadvantages of our two best-selling Swimming Pool Paints, WB148 Single-Pack Acrylic Water Based, or A148 Chlorinated Rubber Solvent Based. See our comparison table HERE...
NB. The use of Shock Treatments in pool water will attack and shorten the lifespan of ALL pool coatings; their use should be avoided.
Paddling Pool Paint. Fine Anti-Slip texture is available. We suggest using the fine finish in paddling pools where its smoother texture will provide a kind finish on the skin of young children. Also suitable for baptism and blessing pools. We can also offer non-slip and anti-skid finishes for walk-in shower areas.
We recommend: Acid Wash Swimming Pool Cleaner - use as a pre-treatment for cleaning a previously painted pool. More HERE.
Most popular colours (including White BS 00E55) shown above.

Coverage: Up to 40 sq metres per 5.0 Litres.

Strictly Net Price:
White, 18E50, 18E51 & 18E53
£61.99
+VAT per 5.0 Litres.
All other colours including Black,
£75.50

+VAT per 5.0 Litres,
minimum 10.0 Litres.
Please see our swimming pool pre-painting PREPARATION ADVICE HERE.
DISCLAIMER: Due to differences in screen displays that are beyond our control, the colours on these pages cannot be guaranteed to match the actual colour of the manufactured product. All colours are shown for guidance only.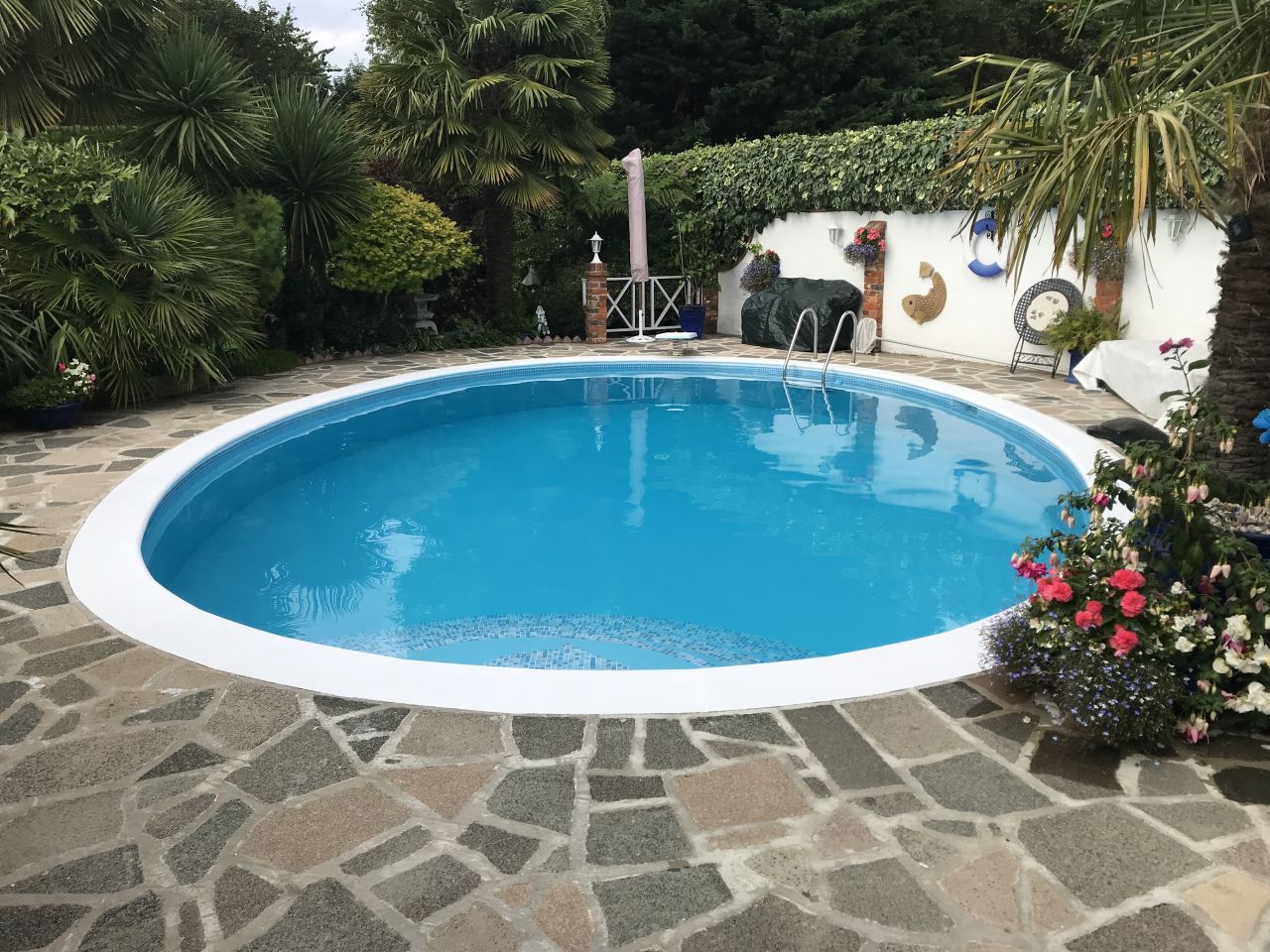 Photo shows paint colour from BS4800 range, Larkspur 18E51.
"I just wanted to thank you (I think it might have been Chris that I spoke to) for the speedy delivery and excellent service that you provided. Thought you might like to see a photo of the finished result, the paint was a joy to apply and the colour was perfect. Many thanks."
Bernice Edwards.


Download Technical Data Sheet

Download MSDS