NEWS
24th July 2020
We are OPEN FOR BUSINESS and we're busy with your paint orders.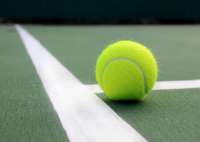 Since the lifting of the dreaded lockdown and with the slow but cautious re-opening of building-sites and leisure facilities, we have seen unprecedented demand for Pool Hall paints and all Tennis Court and Squash Court paints.
There has also been keen interest from clients and specifiers for our Specialist Coatings for the facilities maintenance sector.
A reasonably extended (yet patchy!) period of good, dry settled weather is also driving decorating contractors outside to catch up with external projects whilst the weather window holds.
This demand, along with uncertainty in the supply chain, has seen an extension in our lead/production times, with some orders requiring up to two week's lead time from receipt of order.
We have continued to trade and supply throughout this unusual period and plan to do so subject to UK Government advice. To help us deliver excellent advice and meet demand for our paints, PLEASE PLACE YOUR ORDER WELL AHEAD OF STARTING ANY PAINTING PROJECT. The more notice we have, the better placed we will be to serve you.
Thank You. Call us on 01202 295570.